Leaderboard Configuration - Skins (Individual / Team)
The Skins Leaderboard can be used for events where scores will be entered on each hole for either a Player or Team.
Leaderboard Common Configurations
This leader has the following common configurations available with links to their articles:
Base Configuration - The Base configuration for the Leaderboard, refer to article Leaderboard Configuration - Base Settings
Flight (Event Settings Override) - The Flight Settings for the Leaderboard (If different from the Event / Round Settings), refer to article Leaderboard Configuration - Flights (Event Setting Override)
Individual or Team Skins
Skins can configured by making a selection to the "Individual or Team" dropdown:
Individual - Individual Player Score By Hole
Team (Player Scores) - Team Scores by Hole using the same configuration used for Team (Best Ball). For information on how to configure Team (Best Ball), reference article Leaderboard Configuration - Team (Best Ball) Stroke Play
Team (Scramble / Alternate Shot) - Team Score by Hole (Scores entered into Unknown Golf will be by Team and NOT by Individual Player)

Skins Configuration
You can configure the Skins with the following fields:
Player's Receive Strokes - If yes, then the Skins will be "Net" Skins, if No then the Skins will be "Gross" Skins.
Max Handicap - Set the Max Handicap allowed for a player / team, example if set to 18 then any player that is above an 18 will still only receive 1 Handicap Allocation stroke per hole.
20 HC Rule - This rule is designed for Skins games that set a Max Player Handicap of 18 or Under. When set to "Yes" if the player's Handicap is 20 or Higher, they will receive an extra handicap allocation stroke on the 2 lowest handicap holes on the course.
Max Score (vs Par) allowed to Win - Maximum Score that qualifies to win a Skin, if left blank then there is qualification requirements.
Gross Trumps Net - Utilized for "Net" skins, and If set to Yes, then a Gross Score cannot be covered up by an equal Net Score. Example, if there is a only 1 Gross Birdie on a hole, then a player with a "Net" Birdie cannot cover up the Gross Birdie.
Min Gross (vs Par) required to Win Over Net - If "Gross Trumps Net" is set to Yes, then you can set a Minimum Score to qualify to Win. Example, you may want only Gross Birdies to Qualify for a Gross Trumps Net Win.
Player's Receive Strokes on Par 3's - If the Skins are set to "Net" Skins and this option is set to "No", then essentially the Holes that are Par 3's will be played as "Gross" for Skins.
Gross Eagle Auto Win - If yes, then a Gross Eagle is an automatic win, so if more then 1 player Gross Eagle the same hole, then they will all win a Skin.
Skins Results & Payouts
The Results for Skins do not have to Award $$ or Points, but if you want to award them you can by the following:
Skins Pot - Set a "Per Player $$" amount that each player will contribute to the pot, and then the amount won will be distributed evenly over the Player / Teams that have won skins.
If the Skins are Team Skins, the "Per Player ($$)" amount is Per Player and NOT per Team.
Fixed Amount - By setting a Fixed Amount, every skin winner will be awarded this amount regardless of the number of players that have participated.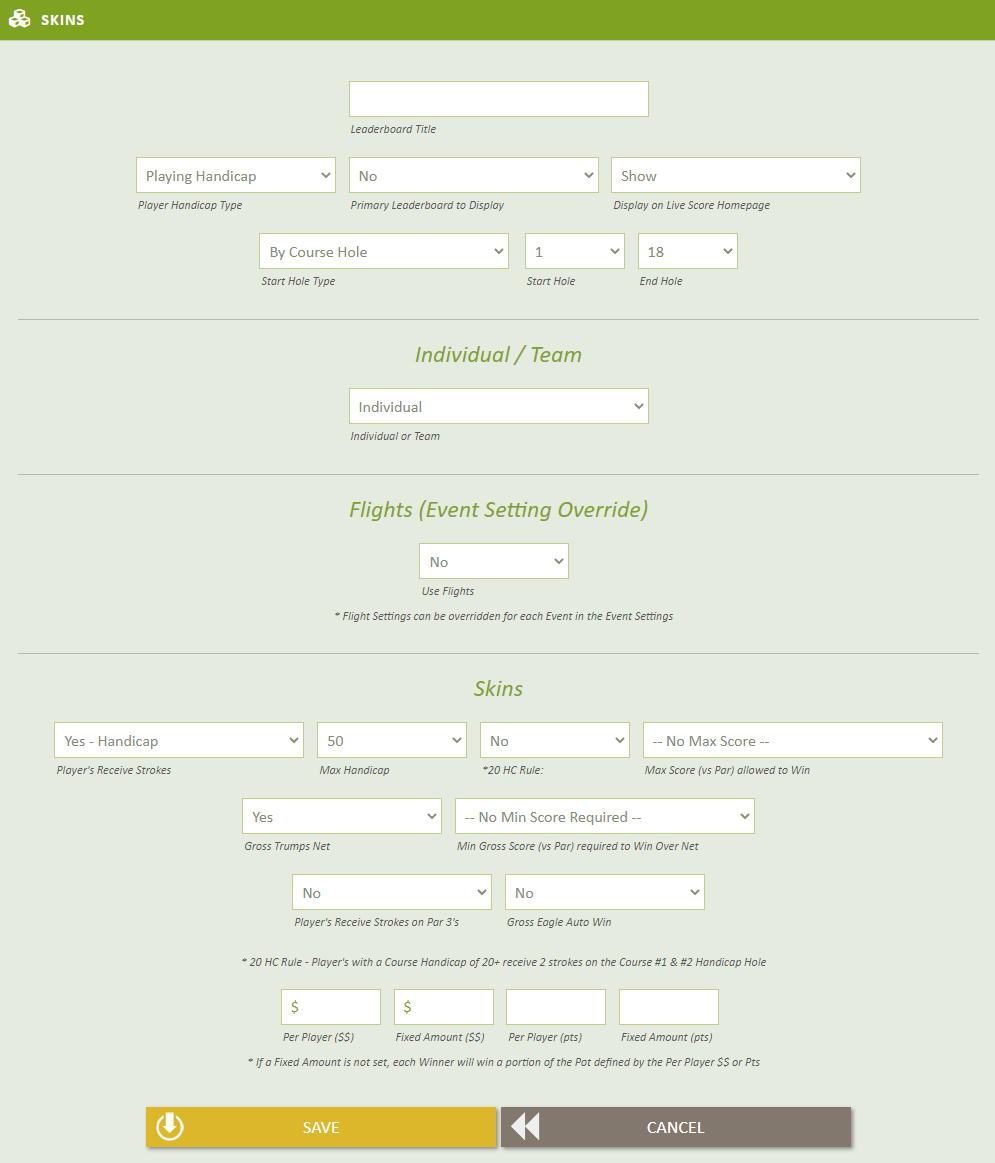 ---
---